The sun's rays can lead to significant heat under a canopy on a summer day. With sun protection from GardenDreams, you can shield yourself from the heat while enjoying the shade. These high-quality German products are known for their excellent value for money. Using this sun protection significantly reduces heat buildup under the canopy or in a garden room.
Explore the versatile range of sun protection products from Gardendreams.

Cloth blinds
For all verandas and Garden rooms
Decide for yourself how long you want to enjoy the sunshine.
High-quality fabric
Open or close with a telescopic pole
Louvered sheets in custom size?
Just like the canopies, the louvered sheets are also available in custom-made versions.
Under-roof sun awning
For verandas and garden rooms
Protected from the heat
Solid and stylish
German quality products

Seamlessly taut fabric?
Awnings with side guides provide seamless shade and a taut fabric.
Top-roof sun awning
For verandas and garden rooms
Prevents overheating
The upper glass awning is mounted on the canopy
Very powerful Somfy motor
Wide range of fabric colors.
We offer a wide range of fabric colors, ask your specialist advisor about the fabric collection.
Vertical sun awning
For verandas and garden rooms
Regulate sun, wind, and heat as desired
The ideal solution
Protection against unwanted views
Enjoy glare-free sunlight?
Vertical awnings are the ideal solution for temporary lateral sun protection.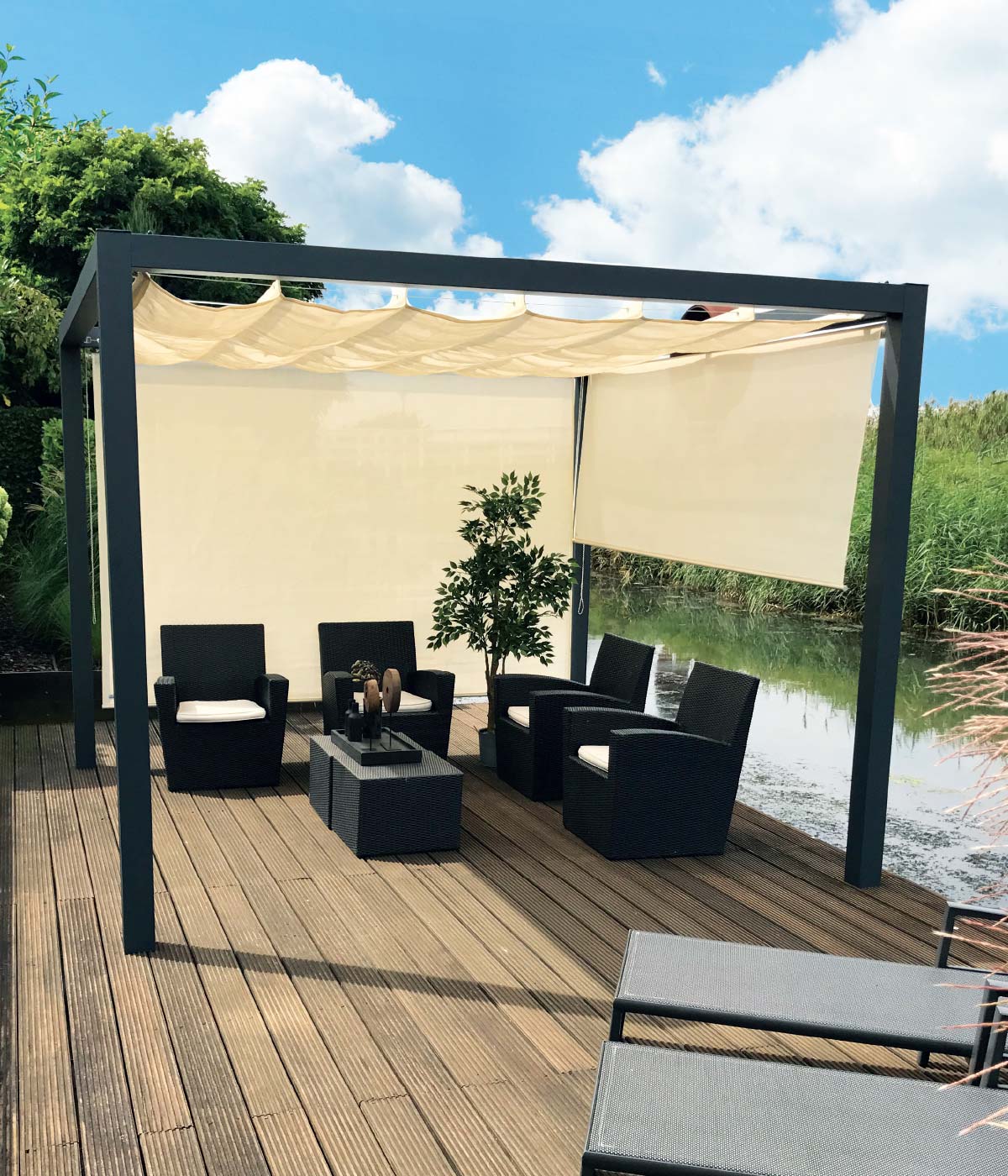 Pergola
With Harmonika Fabric
High-quality Coolfit® harmonika fabric
Made of very tightly woven HDPE material
Provides up to 95% protection against UV radiation
Protection against low-hanging sun?
The pergola can be extended with blinds that perfectly match the harmonika fabric.
Frequently asked questions
Discover answers to frequently asked questions on various topics here. We have gathered the most common questions and provided clear and informative answers to assist you with your inquiries and any uncertainties. If your specific question is not addressed, please do not hesitate to contact us for further assistance.
What types of sun protection are there?
There are various types of sun protection, including louvered awnings, under-glass and over-glass awnings, vertical awnings, and pergolas. Each type has its own advantages and is suitable for different applications.
How do motorized sun protection systems work?
Many contemporary sun protection options, such as awnings, come with integrated motors, allowing them to be conveniently operated with the push of a button or a remote control.
How much do Gardendreams' sun protection products cost?
The prices for our sun protection solutions vary depending on the model and individual customizations. For a precise quote, we recommend requesting a non-binding offer from us. This way, we can address your specific needs and provide you with a tailored offer.
We are always at your disposal and provide you with expert and personal advice.